Every year, we hold an essay contest and a video contest to give your students an opportunity to express themselves and win great prizes. This year, we're opening up that opportunity even more—and giving away $25,000!
2021-22 Contests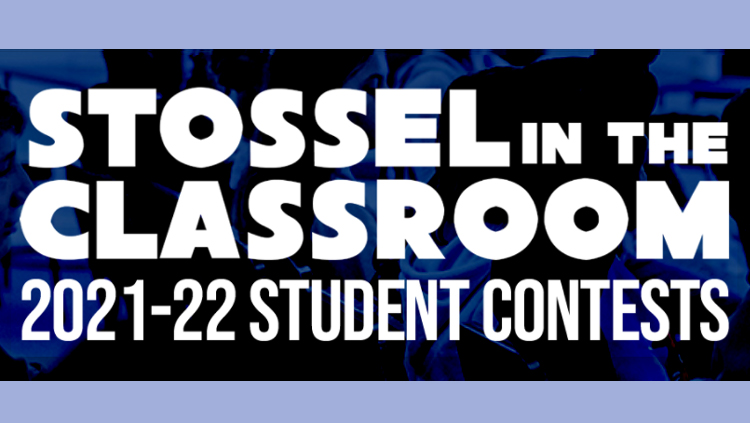 You're invited to our exclusive live event with John Stossel, featuring an interview with Venezuelan freedom activist and economist Daniel Di Martino. Don't miss it at 7pm ET on December 7.
Town Hall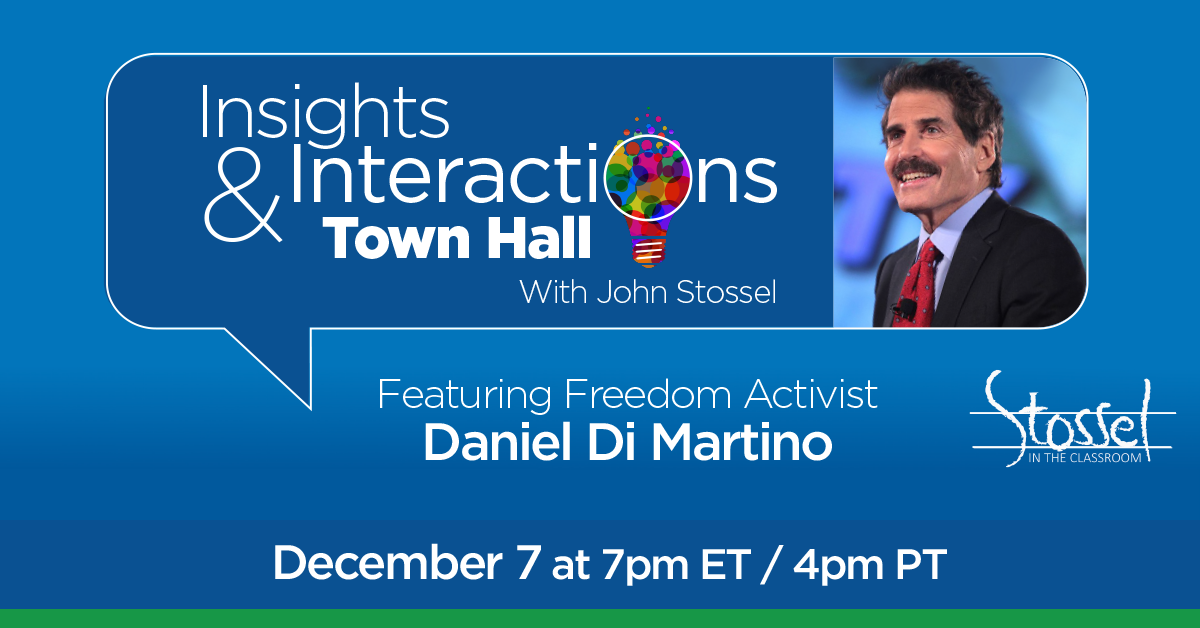 Is Bitcoin a scam, or a tool to fight oppression? Your students can hear two sides of this debate as we revisit the topic in the latest entry to our Both Sides of the Issue series.
Both Sides of the Issue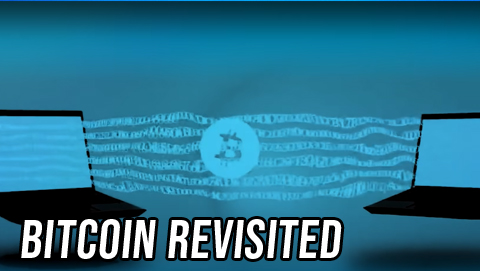 We know traffic lights can slow down traffic, but they're also dangerous. Could roundabouts be a better alternative? John takes a closer look in our latest video.
Video Spotlight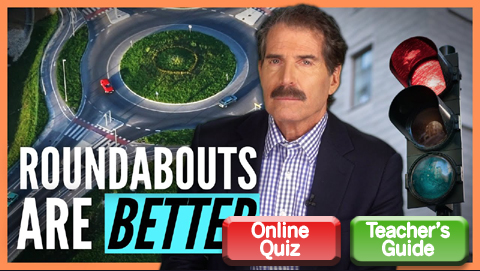 For the latest on Stossel in the Classroom, plus additional resources, check out this month's Ideas in Action newsletter.
Latest Newsletter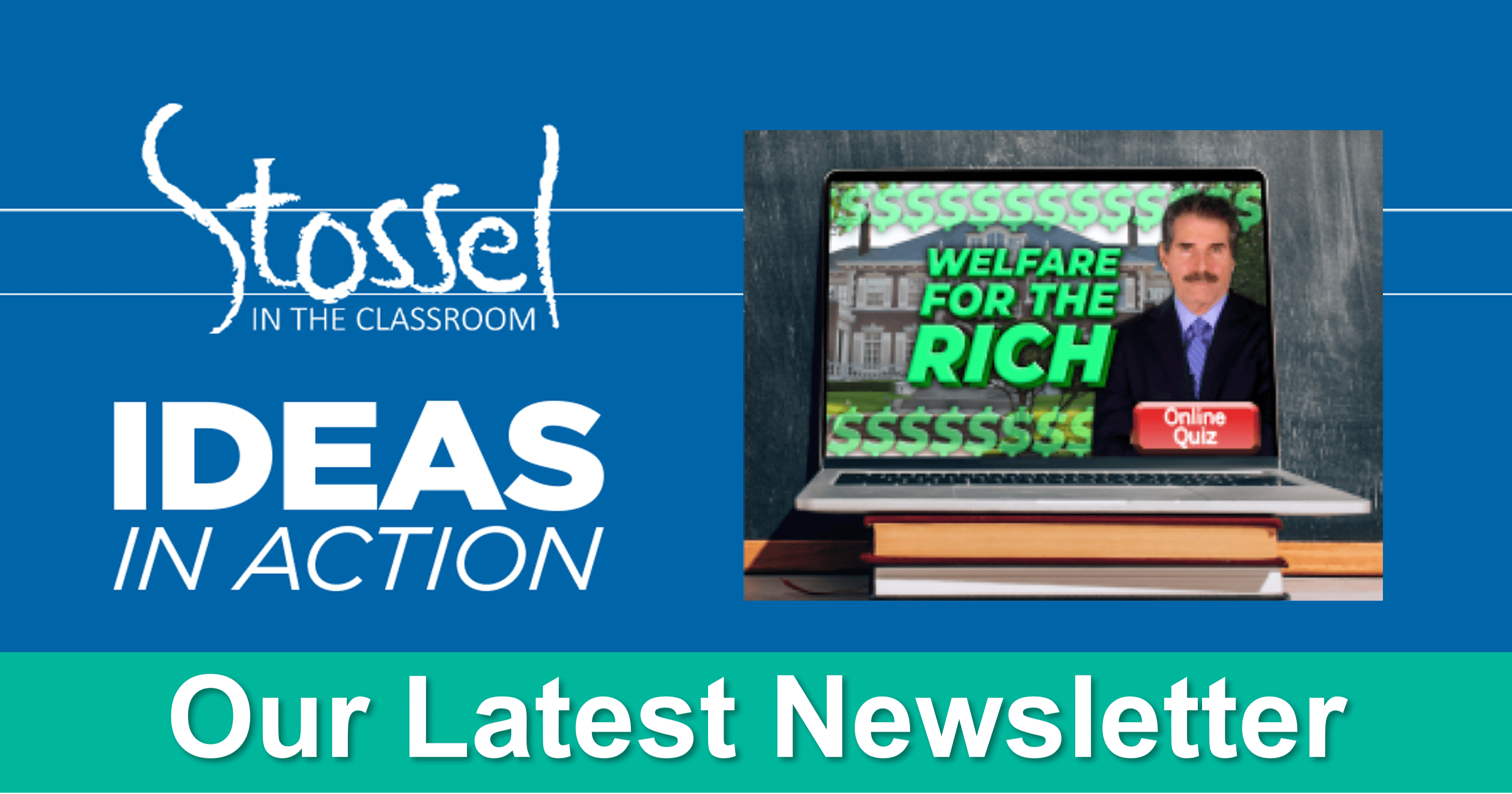 Tools That Help You Teach Better

Stossel in the Classroom is committed to helping educators bring better education to our school systems. We believe that by bringing a balanced approach to subjects like economics, government, and current events, we can help the next generation become better caretakers of society.
We've developed guides for many of our videos, filled with compelling questions to help continue the conversation in the classroom.
A great way to get even more out of our videos. You can assign quizzes and manage your students' results using our handy Classroom Management Tool. We also offer our quizzes through Google Forms, perfect for your Google Classroom.
You can stream all of our videos, but we've also made free DVDs available to help teachers in need of an offline resource.
Tools That Help You Learn More
Stossel in the Classroom isn't just for teachers; it's for students, too. Our videos will help you learn in an entertaining and engaging way, and our contests and college resources are opportunities just waiting to be seized.
Student Contests
We host an Essay Contest and a Video Contest every year, giving students opportunities to showcase their knowledge and win great prizes.
We've compiled a list of resources to help make the pursuit of higher education less complicated.
We provide all of our content for free, but if you'd like to help support Stossel in the Classroom, please click the Donate button.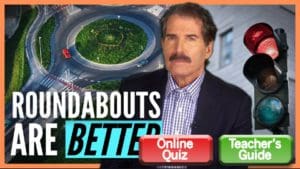 VIDEO DESCRIPTIONHate it when you're the only car stopped at a light? Roundabouts are a solution to that, and more.AVAILABLE RESOURCESWeb-based Online Quizzesare also available here.AVAILABLE...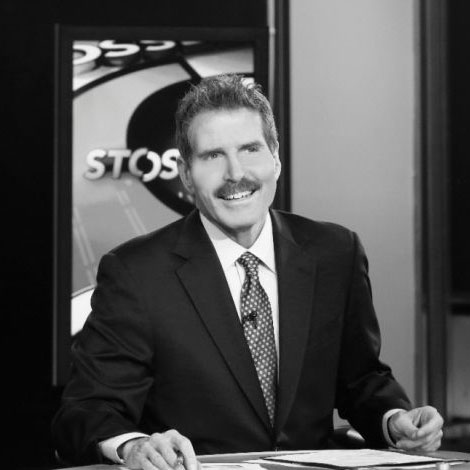 Dear Educators,
Once I learned some economics, I started doing TV stories that illustrated basic economic principles. Teachers often wrote me, "Can I get a copy of that? I wished I'd recorded it for my class!"
Unfortunately, I couldn't. So I was thrilled when the Center for Independent Thought volunteered to do just that! Now teachers tell me that the free videos bring lesson plans to life, and also fulfill curriculum requirements.
More than 150,000 teachers have made Stossel in the Classroom part of their lesson plans. We invite you to provide your feedback to help us improve future materials.
I hope you'll join these teachers, and request your free DVD or access our streaming versions of the segments today. I look forward to hearing what you and your students think.
Sincerely,
John Stossel